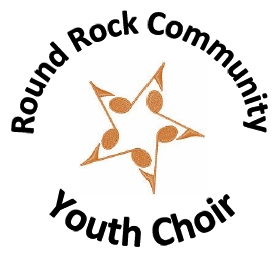 The Round Rock Community Youth Choir (RRCYC) is a program of exemplary choral music performance that develops high levels of artistic and expressive singing in students ages 9-16. The choir provides an opportunity, outside the limits of a school structure, for musical expression and education in a joyful environment.
Young voices can be sophisticated, profoundly musical and artistically excellent. As members of the Round Rock Community Youth Choir, students learn to sing quality music, listen attentively to each other and further develop their solo abilities.
We believe music makes a difference in the lives of all people, but particularly in the lives of children and teenagers. In the youth choir, students are encouraged to explore and expand their love of music. They are introduced to a wide music repertoire that will serve them well for a lifetime. In this process, they learn their passion for singing is a gift to be cherished and nurtured.
Youth choir rehearsals are held Mondays from 5:45-6:45 p.m. at First United Methodist Church. Students participate in approximately six performances a year, both in conjunction with and independently from the Round Rock CommunityChoir.
The RRYC exists to artistically enrich the lives of the child, the family and the community through the choral experience. The choir sings in conjunction with and independent from the Round Rock Community Choir.
Tricia Russell directs the Round Rock Community Youth Choir.
She attended Texas State University where she earned her Bachelor of Music degree in Vocal Performance, and met her husband Jason Russell.
From 2003-2008 Mrs. Russell served as the Head Choral Director at McNeil High School in Round Rock. During that time, she doubled the size of the choir and led her choirs to multiple sweepstakes.
After the birth of their first child in 2008, Mrs. Russell decided to work half time and left McNeil to teach at Walsh Middle School in Round Rock. She was an assistant choir director there until 2012, when her twins, Mary and Luke, were born.
She is currently the assistant director at Henry Middle School in Cedar Park and is a sought after clinician and judge.